Tribeca Wedding Photography NYC
One of my favorite aspects of wedding photography, especially here in NYC, is how every wedding is so vastly different. In a triple header weekend, I can find myself in a raw industrial space like The Green Buiding, then a gorgeous hotel ballroom like the Essex House, and finally a hip, stylish restaurant downtown (in this case, China Blue, in Tribeca).
I LOVE photographing in Tribeca for so may reasons. It's quiet. It's charming. It's historic. It has character, and enables me to work with a variety of backdrops - from the cobblestone streets to industrial old factory walls. My clients in this photo got ready at the Soho Grand Hotel, and like the champs that they are, walked down to their wedding venue in the warm summer rain in order to capture some stunning photos.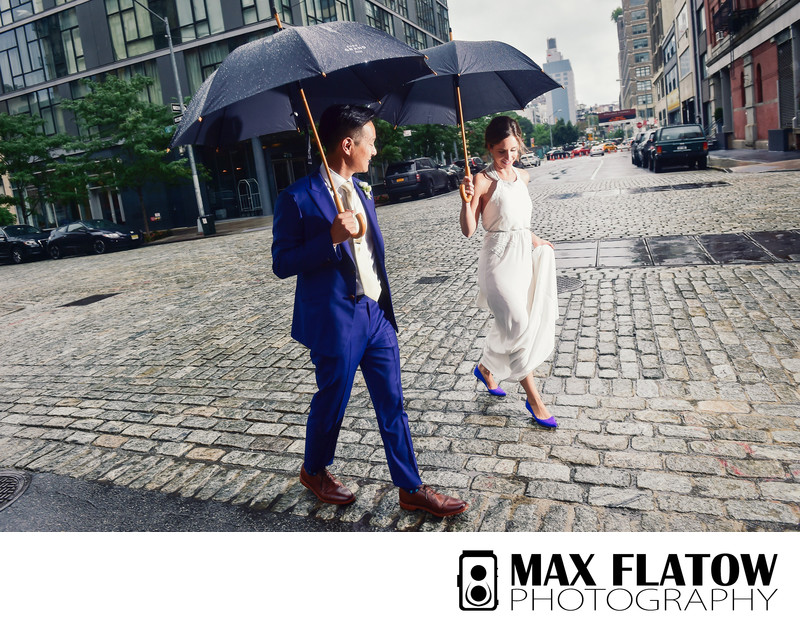 Ask me which neighborhood in NYC is my favorite to make photos in, and Tribeca is generally at the top of my list. A few blocks east you have the hustle and bustle of Chinatown, and a few blocks west, you have the Hudson River with the most photo-worthy sunsets. Great for family portraits, wedding party, or bride-groom portraits. Something for everyone! Contact me today, as I'd love to hear about your Tribeca wedding!

Location: 310 West Broadway, NY, NY 10013.